In today's society it is very hard to keep your hair healthy and gorgeous without all those harsh chemicals, am I right? What if I told you that there's a way to make your hair gorgeous, nourished and soft just by brushing it? If you say you'd be skeptical, I wouldn't blame you but it's true! Morrocco Method International's Pure Boar and Mixed Boar Bristle Brushes do just that.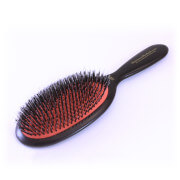 How can simply brushing your hair with a Boar Bristle Brush help your hair so much, you ask? Well here, let me fill you in. Boar Bristle Brushes gently massage the scalp which increases blood flow and unclogs the hair follicles. By doing this your hair will grow faster; it will balance the oil production of your scalp and even give you softer hair by spreading the sebaceous oils from your scalp throughout your hair. Your scalp's natural sebaceous oil makes the best conditioner!
There are four simple steps in brushing your hair with one of their brushes:
First you have to stand up tall, unlock your knees and bend at your waist. This lets all the blood flow into your scalp.
Take your brush and brush from the nape of your neck to the very ends of your hair. You should brush like this in slow easy strokes for a few minutes. (It feels like a free head massage!)
Stand up tall, slowly (I don't want anyone getting dizzy here, that would be a buzzkill). Take your brush and brush from your hairline back and then from the side of your head.
Repeat this process. Morrocco Method recommends that you do this process 3 times for the best results.
Sounds simple, right? That's because it is and the benefits of doing this are SO worth it! Morrocco Method has 4 different brush options and you can check them all out in the online shop. Natural Hair care just got that much easier.
[pin-embed url=https://www.pinterest.com/pin/188025353171727137/ size=large description=true]