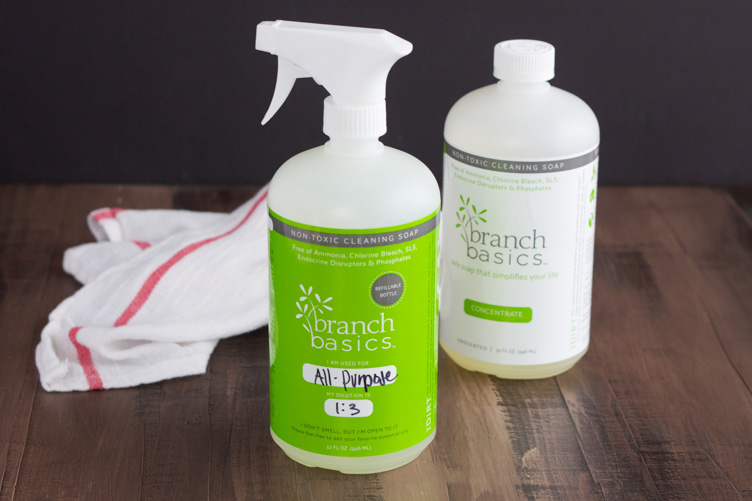 You all know how much I love my DIY vinegar based all-purpose cleaner. I have been making it for close to 5 years and it's all we use to clean at our house. It works well and gets the job done. But, my husband is ALWAYS complaining about the scent. Some people can actually be sensitive to vinegar, especially those with asthma or bronchitis. As I have mentioned before, vinegar is often derived from GMO-corn, so we have to be careful to source a GMO-free product.
Husband was thrilled when we recently had an opportunity to try out Branch Basics' All-Purpose Cleaner. And were we impressed or what?!? As you can see in the above picture, I diluted mine 1:3 (even though the directions recommended 1:5 for all purpose cleaner). I thought being natural and all, it would need to be a little stronger. I was completely wrong (which never happens 😉 )!
One spray and wipe, and my daughter's high chair and kitchen helper were shining. I am not exaggerating about the shine! These are items that get heavily used every single day and they look close to new now!
What Makes Branch Basics Different than Other Green Cleaners?
What I love about Branch Basics, (besides that it actually works!) is the ingredient list. Unfortunately, many "green" cleaners are only slightly safer than the conventional brands, as they are also concocted from a long list of unpronounceable ingredients.
Branch Basics is truly non-toxic and safe to use! Branch Basics uses food grade ingredients and contains no synthetic chemicals. It is not even harmful, if accidentally ingested.
This is key for me when using any products in my home or on my skin. Especially as someone that has a young toddler in the house and plans to be pregnant again in the future. We work really hard to keep chemicals out of our house. Cleaning products are some of the most toxic chemicals that pollute the air inside our homes.
Another benefit of Branch Basics is that their products are versatile and affordable. Living in a tiny house, with limited storage, we are all about less is more. We love that this is basically all we need to keep under our kitchen sink now. This one soap can clean our counter-tops, dirty laundry, showers, floors, wine stains, and  even our splattered ovens. The key is to follow the dilution guide below!
In addition, Branch Basics is cost-effective! On average,  "green"cleaners cost around $6 per a bottle. We usually need to buy multiple varieties for different uses. A gallon of Branch Basics soap makes 24 all-purpose spray bottles (32 oz), costing $3.48 each. That's even significantly less than conventional cleaners!
Ready to try Branch Basics?
They have been kind enough to offer a 20% coupon code for my readers. To save 20% on your entire purchase at Branch Basics, enter the coupon code "RandR20" at checkout. Click HERE to start shopping!
This coupon is only available until December 10th!
I highly recommend the Large Starter Kit, which comes with 1 gallon of the Branch Basic solution, three spray bottles to dilute it, and a 2oz. travel spray bottle. It's by far the best value, especially with the 20% off coupon.
We hope you love Branch Basics as much as we do!
Click HERE to PIN this post!
This review is sponsored by Branch Basics, a company committed to healthy, environmentally friendly, non-toxic products. All opinions are my own. I only share products and brands with you, that I wholeheartedly believe in.