Before you are scared off by the "beef cheek" part, let me just tell you that it's not scary and it doesn't taste weird. It taste just like any other muscle meat. Beef Cheek is a tough and inexpensive cut of meat, that becomes tender and delicious when cooked low and slow. This makes a really tasty taco filling. If you can't find beef cheek, then beef brisket is a great substitute in this recipe.
This recipe is from my cookbook, The Paleo Foodie. It's a great recipe for an introduction into more adventurous eating. At least it will make you sound more adventurous, when you tell your friends that you served beef cheek for dinner. They don't have to know that you just tossed it into your slow cooker and it tasted just like brisket. 😉
I usually serve these as lettuce wraps, but my husband was craving a legit taco, so I used some Otto's Cassava Flour and whipped up some Paleo tortillas within minutes.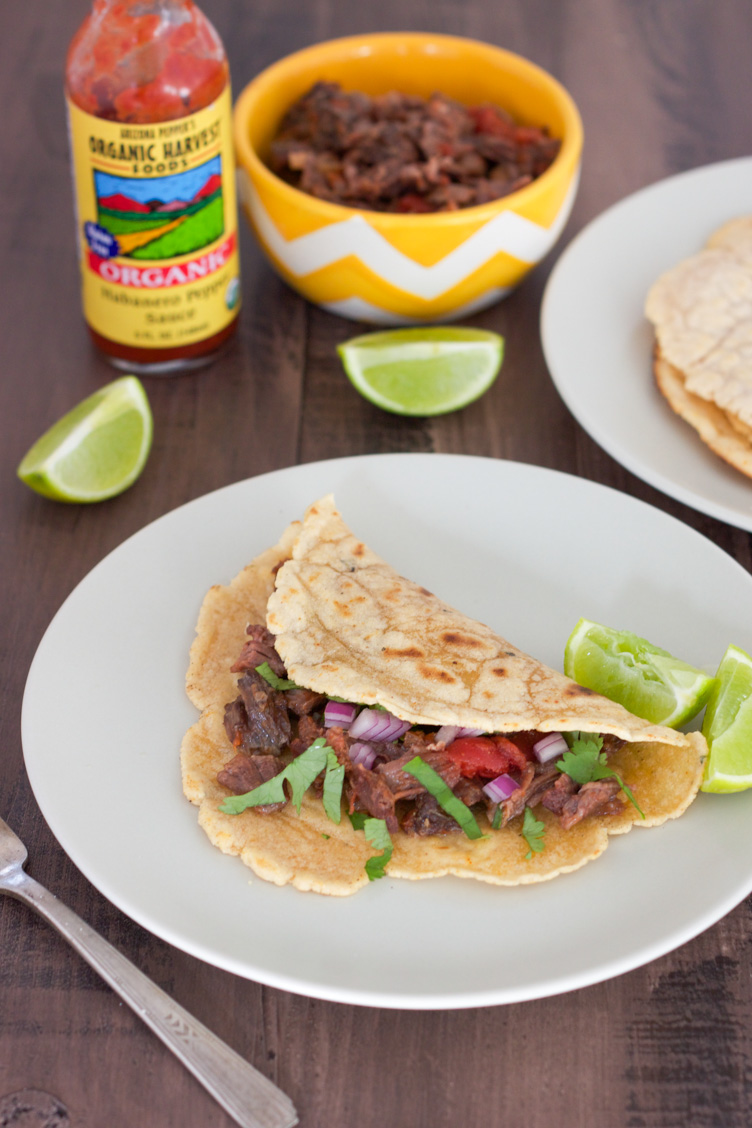 Click HERE to PIN this post!
Beef Cheek Braised with Tomatoes
SERVES 6
Beef cheeks, called joues de boeuf in French, are an inexpensive and often overlooked cut of meat. As a result of the extensive chewing cows do, they are one of the toughest cuts of meat on the cow. When cooked properly, the connective tissue softens and the meat melts in your mouth. The result is a tender and heavenly piece of meat.
Ingredients
2 to 3 lbs. beef cheeks
1 teaspoon sea salt
1⁄2 teaspoon pepper
1⁄2 teaspoon chili powder
2 tablespoons ghee (find grass-fed ghee here)
1 white onion, diced
6 cloves garlic, minced
2 tablespoons tomato paste (I like this brand because it's organic and comes in a jar)
6 tomatoes, chopped, peeled and cored (make it yourself here or substitute one  jar of organic peeled tomatoes like these)
2 cups beef broth (find my recipe here. Don't want to make your own? Buy pasture-raised broth HERE)
Rub beef cheeks with salt, pepper and chili powder on both sides.
Heat a heavy-bottomed skillet over medium heat. Add ghee to hot pan. Once ghee is hot, add the beef cheeks and brown on both sides, about 3 minutes per side. Set aside.
Add the onion to the pan and sauté until soft, about 5 minutes, then add garlic and sauté until fragrant, about 1 minute. Add tomato paste and tomatoes and scrape the pan with a wooden spoon to get up any brown bits.
Place browned beef cheeks in the slow cooker. Pour the tomato-onion mixture and beef broth over it.
Cook on low heat for 8 hours. Pull apart with two forks.
*Note: Steps 2 to 4 above really help elevate the flavors of the recipe, but if you are feeling really lazy, you can toss everything in the slow cooker and it will still turn out okay.
Paleo Tortillas
I came across this recipe for grain-free tortillas on the blog,
Fork & Beans
. Since, I had just received my sample bag of cassava flour from Otto's, I made them immediately for my husband, since he's always complaining about the
sprouted corn tortillas
that I buy for him from our local health food store. We thought the original recipe turned out great, but the tortillas were too small for us, so we played around with it and came up with this version.


I don't know of a substitute for the Otto's Cassava Flour. I've never worked with a grain-free flour that works like this. This is not the same as tapioca starch. Cassava flour is minimally processed. It's the whole food, minus the peel, dried and ground. In most cases, it can be substituted 1:1 for wheat flour. The flavor is also very neutral.
I did use a nonstick skillet for this. However, a blog reader told me that she used a well seasoned cast-iron skillet and that also worked well.
Recipe Adapted from Fork & Beans.


*Flavor God substitute: 1/4 tsp garlic powder, 1/4 tsp onion powder, 1/4 teaspoon chili pepper, 1/4 teaspoon paprika, 1/4 teaspoon  black pepper, 1/4 teaspoon dried parsley, 1/4 teaspoon dried basil 1/8 teaspoon cumin, 1/8 teaspoon coriander


In a large bowl, combine the flour, salt and flavorgod. Then add the oil and warm water. Stir to combine. Then use your hands to knead the dough until it is smooth.
Divide the dough into 6 even balls. Set each ball in between 2 sheets of parchment paper and roll it out until they are thin.
Next, heat a nonstick skillet (or a very well seasoned cast iron skillet) over medium-high heat.
Once the skillet is nice and hot, place your tortilla in the skillet. Wait for bubbles to form, about 1 to 2 minutes. Then flip it and brown the other side.
Don't cook them too long or they won't be bendy. They will be crispy like a tostada.
Top with your favorite toppings and enjoy!